Welcome to LostEye.com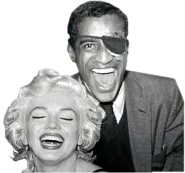 Sammy Davis Jr. lost his left eye in an automobile accident in 1954. Sammy quickly recovered, then went on to be one of America's most popular entertainers -- for the next 36 years!
Pictured here with movie actress Marilyn Monroe shortly after his automobile accident.
Have you lost an eye, or about you about to lose an eye? Don't worry, it's not the end of the world. Give it a couple of weeks and it will probably turn into a mere inconvenience that you don't even think about very often, at least that's the way it has been with me and thousands of others who have lost an eye.
Four days after the turn of the New Millennium, my optometrist told me that something didn't look right, and that I should consult with an ophthalmologic surgeon. I was then diagnosed with choroidal melanoma, which is a serious cancer within the eye. The cancer wasn't very big, but it was very close to my optical nerve and melanoma is not something you want to mess around with. So, within days, I had made the decision -- at the very active age of 35 -- to go with the best odds and have the eye removed.
Believe it or not, five days later I was back at work at my law practice, and now the fact that I only have one eye is barely an inconvenience, and not even something I notice unless I think about it. My driving isn't any different (I give myself a little more space for the cars ahead of me), and my life isn't any different. I haven't even noticed any significant loss of depth perception. In other words, life has returned to pretty much what it was before I went in for the surgery.
But I know, and I mean really know -- personally -- how stressful losing an eye can be. Thus, I have created this completely free, noncommercial website for the information and support of those who have recently lost an eye, or who may lose an eye due to surgery, disease, etc.
Shortcut to our LostEye Discussion Forum where you can read the posts and visit with others who have lost sight in an eye.
About the Author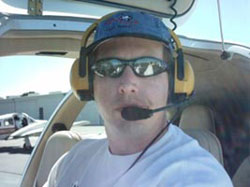 One-Eyed Pilot Jay Becomes an FAA Licensed Pilot, February 28, 2003
The Editor of this website is Jay Adkisson an author of financial planning books and the publisher of Quatloos.com which is the largest private resource for exposing financial and tax frauds and scams.
Lost Eye
Coping with Monocular Vision after Enucleation or Eye Loss from Cancer, Accident, or Disease
By Jay D. Adkisson
Barnes & Noble Amazon iUniverse
Discussion Forum
Listing the famous and psuedo-famous who succeeded with monocular vision, with an emphasis on historical figures.
A place for folks to chat about pretty much anything whatsoever. Come in, have a drink, kick back and casually chat with others. Please don't talk about anything too serious, and don't take anything that anybody else says too seriously.
All issues relating to ocularists, including practices, prices, the profession, how to find one, and good and bad comments on ones we've used. Plus, all issues relating to prosthesis, including how they are made, conformers, care and cleaning.
Types of patches, problems with patches, where to find them, and how to make them
All issues relating to enucleation surgery and follow-ups, including surgery preparation, post-surgery recovery, and follow-up examinations. Also covers medical problems related to surgery or loss of an eye, such as recurring headaches.
Types of implants and problems with implants.
All issues relating to adapting to monocular vision, including depth perception, getting driver's licenses, reading and the like.
Discusses the mental and emotional issues that accompany the loss of sight, and coping with the mental and emotional aspects of eye loss.
Discusses eye cancer and other diseases resulting in the lose of an eye or vision, alternatives to enucleation, possible cures, coping with the cancer or disease.
Discusses accidents that have lead to the loss of an eye.
Collection of posts by parents about dealing with their children who have been born with a bad eye or lost an eye because of an accident, etc.
Issues relating to driving, getting drivers licenses and staying current, and similar issues.
Comments about scleral shells, which are a form of a prosthesis that fit over an existing eye
Helpful Links
The Eye Cancer Network is an educational web-site about the diagnosis and treatment of ocular tumors, eye cancer, and orbital diseases for patients, their families and the health professionals who care for them. Hosted by Dr. Paul T. Finger, M.D.
The Eye Cancer Network's webpage describing the surgical process of removing an eye, and what to expect afterwards.
An organization of ocularists with members in many states and nationwide. This is an excellent place for you to start your search for an ocularist and to learn more about ocularistry and your new eye.
Creators of unique and one of a kind eye patches that are functional and fashionable.
Makes quality eye patches.

One Vision

OneVision is the UK's only registered Telephone Helpline offering information, support and understanding for people who have lost the sight in one eye.

It was set up in 1998, originally as a local service for people living in Northamptonshire. But it quickly became a national support service as more and more people and organisations latched onto the fact that it was the only service of its kind in the UK!

Independent charity status was obtained in 2002.

OneVision is experienced in helping people come to terms, and cope with visual impairment. Its backbone, is a strong UK-wide network of volunteers with personal knowledge of sight loss in one eye (from all types of causes). They offer invaluable one-to-one support to new callers to the Helpline seeking information, encouragement or reassurance from someone who really knows what it is like.

They are still a very small operation, looking to secure funding to enable them to grow their service. Meanwhile, hundreds of people each year ring the Helpline -- pointed in their direction by such organisations as the Royal National Institute for the Blind, Moorfield Eye Hospital in London and the National Artificial Eye Service.

Telephone number is (uk) 0845 108 3161